!*!*! Pacific Northwest !*!*!
Hot Wheelers Club
We have established an account for the club and will be collecting the dues for this year. I have already made my payment and verified the receipt in the account. As discussed during the last meeting the funds we collect will be to supplement club activities throughout the year and pay for larger venues for trading and selling for paid club members.
In the discussion boards for our club I have set up the private area for paid club members for discussion of club business and other information. Be on the lookout for special activities and events that will only be available for club members who have paid their club dues for the year.
We have finally produced our club logo, which you will see below. We are going to create a patch and find an embroidery outlet to have the logo placed on apparel that will be available for paid club members only. We have also made a variation to the logo to use on our first club car. We have selected and purchased the vehicle we are using and it should be available to paid club members as soon as they are ready. There is going to be a second level club car availalble to paid members, details can be found in the private club discussion board.
Clicking on the following link will take you to the discussion boards. Additionally, you can use the Message Board button at the top of this page to navigate to the discussion board.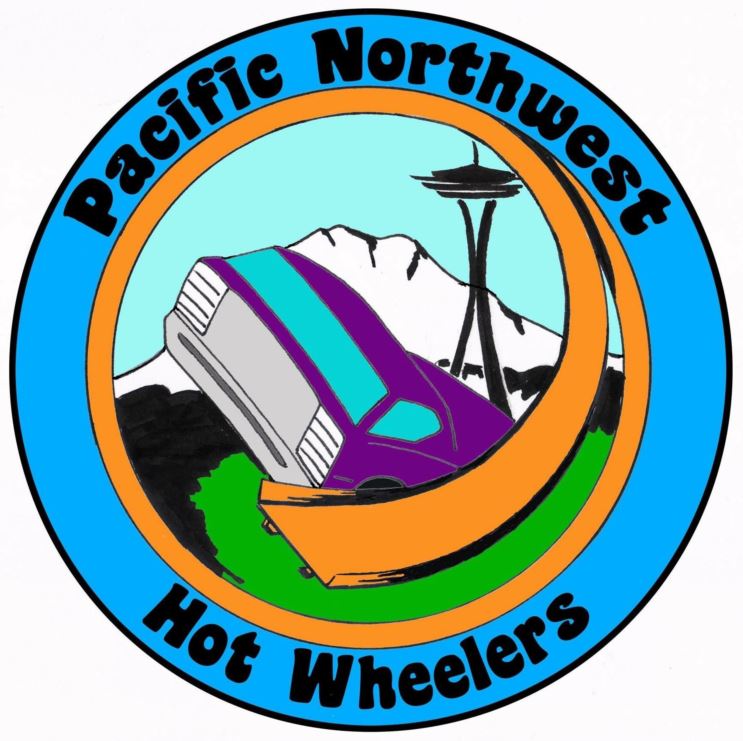 Next scheduled club meeting
Our June meeting has been scheduled for Sunday the 18th at Ernies, time yet to be determined. For location and directions contact Ralph directly. We will be having our 2nd annual downhill race, you will not lose your car this time, and those who have paid their dues will receive their club car and have the opprtunity to win raffle items. We will also have a potluck style picnic meal, a post will be started in the club forums. .
!*!*! Club Meeting Schedule !*!*!
Current thru
Updates Coming Soon
Round Table Pizza
15025 Ne 24th St.
Redmond, WA 98052
(425) 644 7117
Round Table Pizza
4002 "A" Street S.E
Auburn, WA
253) 735-4000
Monthly Meeting Highlight Topics:
The following list indicates some areas of interest the club has decided to discuss during our monthly meetings. The order in which they are listed is irrelevant, we can jump around throughout the list. Should any member feel they want to discuss any of the topics, let Ralph know and it will be posted for a specfic club meeting.

Errors - Nathan -
Redlines - Ralph -
BlackWalls (AKA: Basic Wheels) -
Sizzlers -
Real Riders -
Promos -
Exclusives (stores, etc., NOT Promos) -
Prototypes -
"Indie" castings (India, Mexico, France, Italy, MUKY's, etc.) -
"100% Hot Wheels" line (AKA: "Black Box")-
Adult Collectibles lines (other than "100%"?) -
Customs -
RLC (Redline Club) -
Variations -
Spectraflame (as opposed to Redlines?) -
Enamels -
"Flying Colors" era -
Play Sets -
Track Sets -
Steering Rigs -
Card Art/Card Era's -
Hits & Misses: castings Mattel nailed, and ones that missed the mark -
Old Skool HW's - vs - New School HW's -
Interactive HW's (eg: Hi-Rakers, Crack-Ups, Flip-Outs, etc., i.e. HW's that DO something) -
Other Brands of Diecast Cars -
I encourage anyone who has an interest in joining our effort in creating a club where families can enjoy our hobby of collecting Hot Wheels to come out and have some fun and help in developing an enjoyable club presence here in the Pacific Northwest. There will be many different activities to enjoy as we develop this club, and everyone's input will be greatly appreciated.